Post by Nemesis on Jan 28, 2007 23:16:02 GMT -5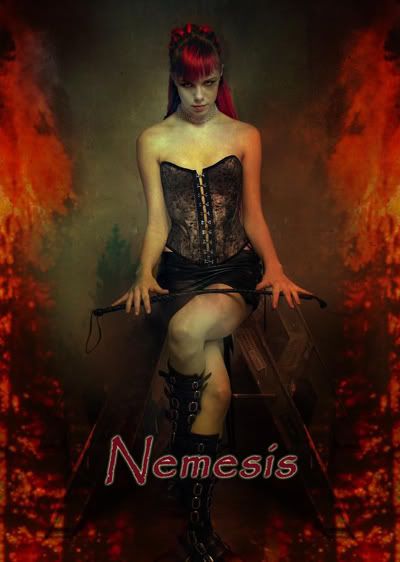 Vampire Name:
Nemesis
Time in Ravenblack City
6+ Years
Full name:
Nemesis Mahorela.
Nickname:
Nems
Past Sires:
Heimdag af Gyllenstierna.
Gothic-Rose (sleeping in eternal shadows with Lord Livingston)
Marital status:
Partner-bound to AdaMaS Mahorela
Siblings:
none
Childer:
Seppuku
Pets:
A zombie voodoo bunny (Mr Bun)
A demonic rat, a gift from Jauk
Roy, a 'fainting' goat, given by ophelia
an emo (he hurts himself, so he can feeeeeeel) penguin also given by ophelia
Appearance and personal stuff:
Age at Turning:
early 20s
Birthplace:
The Deep South, sometime in the 1700's
Height:
5'
Weight:
105lbs
Hair:
Dark red hair, near waist in length, straight
Eyes:
Pale green eyes
Wings:
due in part to her slight demon nature; left wing, feathered gray and black:: right wing, leathery, much like a bats.
Special Powers:
All RavenBlack Powers
Nemesis is an Elder, having been in RavenBlack a very long time (5 years now). I firmly believe 'in city' age is a determining factor to a vampires 'strength'. The older the pire, the more knowledgeable and strong they would be. Not to mention, Nemesis has never rested, or taken more than 2 weeks away from the City the entire time. A few vacations…and one two week torpor when she was killed in a war.
Demonic heritage: Nemesis has mismatched wings, but they are too damaged to be used for flight. Also has an armor, made of demonic blood and bone which encases her right arm and side.
Nemesis is a skilled voodoo practitioner. She can conjure dolls at will.
Nemesis is also very well at concocting potions and poisons. Eat or drink anything she offers you at your own risk.
Attire:
Nemesis has no fashion sense whatsoever. Her usual attire consists of black pants, boots and a vest or tank top of some sort, her husbands large shirts and any sort of jacket or coat she happens to grab on her way out of the house.
Though at times, she can shock and amaze with a pretty slip dress or gown. She just doesn't like 'girly' things.
Personality:
Nemesis is fairly quiet most times. She is very quirky in behavior. She can be eloquent one moment, and trying to staple your ears the next. Her temper is rather short as well. Her emotions shift radically at times. One of her larger personal flaws is that she either likes someone or she doesn't, there is little 'in-between'. She gives everyone a chance however, but one chance only.
Nemesis has a sort of split personality, though she can control it rather well unless under heavy stress. The alter personality rarely has control of the body, doing most of its damage to Nemesis herself with its seething attitude. The alter personality is more like a conscience…though sadistic and hateful. (Jiminy Cricket on Crack ;p)
It's believed her mind split to help her cope with so many brutal realizations in both her human life, and then her immortal life, giving her demon nature a thought process, and on rare occasions a voice, of its own.
Nemesis is versed well in the use of voodoo dolls; however, she plays with them more than using them to cause any real harm. She is also knowledgeable in poisons; it's a hobby of sorts. Another hobby is stalking serial killers. She is obsessed with them. She's known to prattle at length on the histories of some.
She has been a spy-mistress and expert thief almost her entire time within RavenBlack, however, among those who are with her on a nightly basis, she is a renowned klutz for the most part; the style and grace of the typical vampire escapes her. If you have priceless works of art in your home, don't invite Nemesis over, or be sure to have your valuables insured.
Nemesis is fiercely protective of those she is close to. She will fight and die, and has, to support her loved ones.
**personal history will be coming**
NPC's used the most:
Mr Bun, the zombified voodoo bunny.
Victor (Morgonheims shifty butler)
Marus (the child sized grey skin demon servant of AdaMaS and Mahorela Manor)
Joshua (The serial killer known as The AngelMaker)
Thread can be found Here
Home:
AdaMaS' and Nemesis' Mahorela Manor (in city square: Yearning and 98th)
Clan:
None. Nemesis is currently clanless and wandering however she pleases.
Previous Clans
(In order of entry to the City)
Clan:
The Shadow Court:
Position at time of departure: Chancellor.
Nemesis' first command position in the Shadow Court came as the Dojo's Magistrate. She assisted Heimdag in his thievery house until his departure from the Shadow Court, as well as assisting EvilBill with reopening the Shadow Guard until his departure.
She helped Will der Bauer restructure the thieves into the Hall of Rogues, keeping the house running long after his death.
She became a Chancellor, governing the Dojo, The Shadow Guard, and the Hall of Rogues.
Clan:
Church of Blood.
Position at time of departure: none
Nemesis spent a brief time within the Church of Blood, but just felt it was not for her.
Clan:
Yggdrasil. Nemesis left Yggdrasil for personal reasons.
Employment/Hobbies:
It wasnt really a job…it was an adventure. In insanity; Co-owner of the RavenBlack City NittyGritty Newspaper, now NG Museum. She was the 'Bad Cop' as opposed to Jauks 'Good Cop', meaning everyone hated her and loved Jauk. ~wails~
rbcnews.suddenlaunch3.com/index.cgi
Tormenting Marus
Stalking Joshua
Placing spells and hexes on others with her voodoo dolls
Stealing stuff
Pictures::
*its bloody hard to find pics with mismatched wings, so I drew my own >.< *
i70.photobucket.com/albums/i108/nemesis_wings/draft3watermarkcopy.jpg